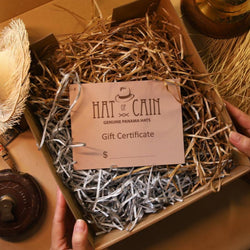 E-Gift Card
Surprise your loved one with a personalized hat-fitting experience at our salon, or let them indulge in choosing their own Panama hat and a variety of accessories at the salon or through our online platform.
How does it work?

1. Select your preferred denomination to your cart and checkout. 
2. The E-Gift Card will be sent to your email with a unique 16-digit code.
3. Forward the email to your recipient and add a personalised message before delivering your surprise! 

Our E-Gift Cards have a validity of 12 months from the date of purchase.